By Jamye Wooten, HuffPost Religion

Today marks the one year anniversary of the death of Sandra Bland, a 28 year old black woman who was pulled over and accused of failing to use a turn signal. Bland was arrested and later found hanged in a jail cell in Waller County, Texas.

#BlackDeath at the hands of police has become, as we all know by now, an all too common trend. Only last week, the names of Alton Sterling and Philando Castile became the latest in a long line of #blackdeath as a result of interaction with police.

There are, it seems to me, at least two parts to this ongoing story. One of them is marked by pain—wrenching, terrible, intimate. The other claims power—the power to demand justice, to insist on a brand of justice that is nothing less than an expression of love and power.

On Tuesday, July 5th when Alton Sterling was murdered by two Baton Rouge police officers, I posted a
litany
by Dr. Yolanda Pierce with a photo of Alton Sterling. My 14 year old daughter told me she saw my post, we talked for a brief moment and she went on her way. It was different this time than it was in other times, with other #blackdeaths that scrolled across the screens of her childhood. This time, she didn't ask how or why they both died. By now, she knows.
When Trayvon Martin and Mike Brown were murdered she had a million questions. I watched her cry as she tried to make sense of how law enforcement, who are sworn to serve and protect, could just take the lives of two innocent children. But in her short life, this has become an all too common routine – the gunning down of black bodies, the vigils, the protests.

I carried her in my arms when she was a baby as we stood in solidarity with our Palestinian brothers and sisters in Washington, D.C. She has marched in the streets of Baltimore on issues such as jobs, fair wages, affordable housing, lead contaminated water fountains, gentrification, the proposal to build $100 million youth jail and more. She has marched for Trayvon Martin, Mike Brown and Freddie Gray.
Later on, after the most recent killings, she asked me if there were there any protests planned for Baltimore and if she could participate. She assured me her spirit was strong. But I couldn't help but think; How many more vigils? How many more protests?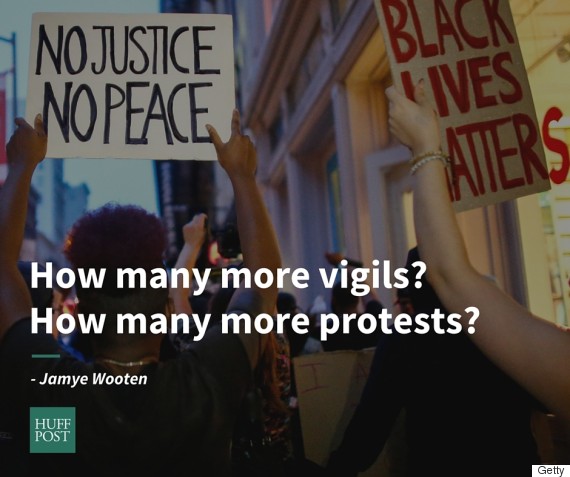 Power

"Nobody in the world, nobody in history, has ever gotten their freedom by appealing to the moral sense of the people who were oppressing them."-Assata Shukur

Dr. Emilie Townes stated in a recent article, "The murders of Sterling and Castile reveal the awful fact that this brand of tragedy has become routine. The videos of their deaths allow us to bear witness, but it will not necessarily bring justice."
Justice… So what is justice? What do we really want? Will America ever gives us justice? And is justice something other people can give us? Dr. King
said
, "…justice at its best is power correcting everything that stands against love." Hmmm, Power – To get justice you must have power. King continued, "Power at its best is love implementing the demands of justice." Justice is rooted in love and power. For as King stated, "Power without love is reckless and abusive, and love without power is sentimental and anemic."
The system of white supremacy has its foot on the necks of every black person in America. How do we move beyond making moral appeals that seemingly fall on deaf ears?


"this economic and political domination, sharply enhanced and defined by racism, will not be ended simply through an appeal to reason or the religious piety of those who hold us in captivity. Oppression ceases only when the victims accumulate enough power to stop it."


Reform based movements that aren't pursing power, if successful, only lessen the pressure on our neck, but they do not move us toward power. We are only allowed to breathe for a brief moment until they reapply pressure once again.

Rev. Albert Cleage
wrote
in 1972 that, 'The solution to our problem depends upon our ability to escape powerlessness, so we evaluate everything in terms of power. Does it get power for us? Does it create a base from which we can move toward power?"

#MLK2BAKER: #BeyondReActivism #OrganizingforPower

I have been writing and fleshing out an idea that I call
#MLK2BAKER
(
IMAGES
). I've been asking myself whether, as social media begins to democratize communication, a hashtag can lead us to an Ella Baker movement—a more democratic and decentralized model of leadership and social change. And if so, how can these tools be utilized to help us move
#BeyondReActivism
(Reactionary Activism)? How can these tools help move us beyond the tweeting and protest of #blackdeath to a sustained movement—#OrganizingForPower or holistic community development where the end goal is not reform or rights, but power? Power that is just and rooted in love.
The glue that holds decentralized organizations together is ideology. Developing a holistic ideological framework around the hashtag keeps us moving toward our goal—power—and moves us #BeyondReActivism.

Here's but one example of what such an ideological framework could look like. On December 10, 1988 George Edward Tait published an article entitled, "Interlocking Principles: Kwanzaa and Buy Black Campaign", a strategy to incorporate the principles of Kwanzaa into the "Buy Black Campaign." What Tait set out to do was to move us from celebrating the principles of Kwanzaa once a year to incorporating them into our everyday life. The idea was to use the principles to support and sustain the Buy Black campaign; transforming the structures of oppression in their own lives. Tait stated that these principles must become an "integral part of our daily existence and not just limited to a hasty observance during the final holiday season of the year.' Buying Black Campaigns shouldn't just be in response to state violence, but a set of principles in our framework to gain power.

As long as our people are in the streets, I will be there. But we must move beyond a state of powerlessness. We must move beyond making moral appeals and work to insure that 20 years from now our children are not fighting the same battles—achieving limited reform without gaining power. Our campaigns must be holistic, rooted in principles and create a way of life that is sustainable and centered on #BlackLife, not #BlackDeath. The time is now. Let us rise up and build!